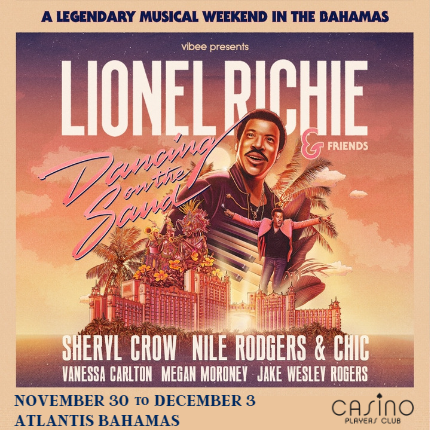 Lionel Richie and Friends "Dancing on the Sand" at Atlantis Bahamas
30 November 2023      Concert
Legendary singer-songwriter and 2022 Rock & Roll Hall of Fame inductee Lionel Richie returns to Encore Theater with an all-new show "King of Hearts."
Lionel Richie knows how to plan the perfect getaway — and this time, he's bringing his fans with him!
The Grammy award-winning musician, 73, has curated the ultimate travel experience for his fans in celebration of his five-decade musical career, in collaboration with Vibee, a new "music-led destination experience company" founded by Live Nation. Richie will host the event, "Dancing on the Sand," at the Bahamas' famed Atlantis Paradise Island, November 30 to December 3, 2023.
"I'm beyond excited to spend the weekend with my fans beachside in the Bahamas later this year," Richie said in a statement shared exclusively with PEOPLE. "We've personally curated 'Dancing on the Sand,' a concert destination experience that I'll be headlining, joined by phenomenal performances by some very talented friends of mine, so this party will be going All Night Long!"
With very special guests Sheryl Crow, Nile Rodgers & CHIC, Vanessa Carlton, Megan Maroney and Jake Wesley Rogers.