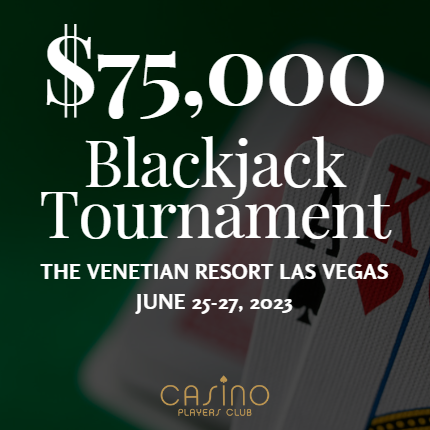 $75,000 Blackjack Tournament at The Venetian Resort Las Vegas 
25 June 2023    Tournament
Play your cards right at The Venetian's $75,000 Blackjack Tournament and you could walk away $25,000 in Free Bet Chips richer. Join this thrilling competition June 25-27, 2023. Use re-buys to keep you in the action as you progress through the tournament. 
Sunday, June 25 – Tournament Registration
Monday, June 26 – Late Registration | Tournament Play
Tuesday, June 27 – Tournament Play | Prizes Available
$75,000 Prize Pool:
1st Place………………..$25,000
2nd Place………………$10,000
3rd Place………………….$7,000
4th Place………………….$4,000
5th–20th Place…..$500 Each
21st–40th Place.…….$250 Each
The Venetian Resort Las Vegas reserves the right to refuse, cancel, suspend, discontinue, or modify this event at Management's sole discretion. Participation is based on availability and qualified play based on rated play from previous trips to this Casino.
.