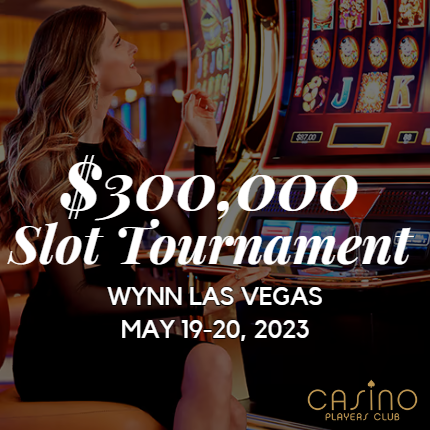 $300,000 Slot Tournament at Wynn Las Vegas
19 May 2023    Tournament
Join Wynn Las Vegas May 19-20, 2023, and play three, 2-minute rounds. Your combined score could earn you the $125,000 CASH Grand Prize!
All participants will be entered into a drawing where five lucky winners will earn a complimentary entry to Wynn's $2,500 Buy-In, $350,000 Slot Tournament taking place in December 2023.
PRIZE POOL:
1ST PLACE | $125,000 CASH
2ND PLACE | $50,000 CASH
3RD PLACE | $25,000 CASH
4TH PLACE | $15,000 CASH
5 TH PLACE | $7,500 CASH
6TH-15TH PLACE | $2,500 each in Free Credit
16TH-30TH PLACE | $1,250 each in Free Credit
31ST -75TH PLACE | $750 each in Free Credit
GIVEAWAY DRAWING:
1st-5th Prizes: Complimentary Entry into $25,00 Buy-in, $350,000 Slot Tournament.
SCHEDULE OF EVENTS
Friday, May 19, 2023 – Tournament Registration
Saturday, May 20, 2023 – Slot Tournament Play 10AM-4:30PM
Wynn Las Vegas reserves the right to refuse, cancel, suspend, discontinue, or modify this event at Management's sole discretion. Participation is based on availability and qualified play based on rated play from previous trips to this Casino.
.