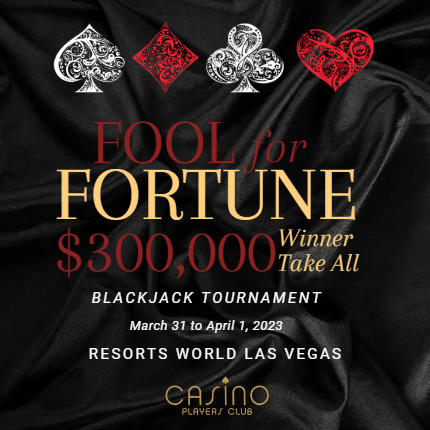 $300,000 Winner-Take-All Blackjack Tournament at Resorts World Las Vegas
31 March 2023    Tournament
This Blackjack Tournament is no April Fools' joke! Head over to Resorts World Las Vegas and play for your chance to win your share of $300,000 in their Fool for Fortune, Winner Take All Blackjack Tournament taking place March 31 to April 1, 2023.
Elite Tournament: $100,000 Winner-Take-All
$200K Tournament: $200,000 Winner-Take-All
Resorts World Las Vegas reserves the right to refuse, cancel, suspend, discontinue, or modify this event at Management's sole discretion. Participation is based on availability and qualified play based on rated play from previous trips to this Casino.