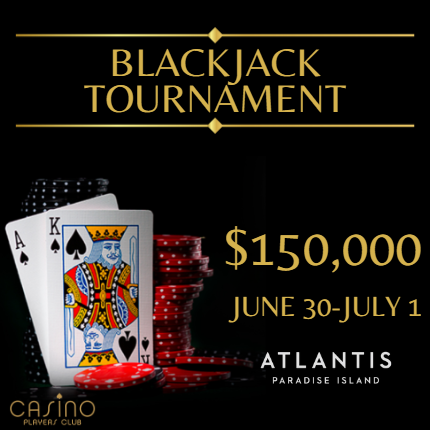 $150,000 Blackjack Tournament at Atlantis Paradise Island Bahamas 
30 June 2023    Tournament
Atlantis Paradise Island Bahamas invites you to play in their $150,000 Blackjack Tournament for your chance to win your share of $150,000!
Tournament
-Qualifying Round will take place on Friday, June 30.  
-Semi Finals and Finals will take place on Saturday, July 1.  
Tournament Schedule 
Friday June 30, 2023
Registration:                                      4:00pm – 4:45pm 
Qualifying Round:                            5:00pm Start time 
Saturday July 1, 2023 
Registration:                                      12:00pm – 12:45pm 
Semi/Final Round:                           1:00pm Semi • Finals immediately following. 
Format
-The tournament will consist of 3 rounds— Qualifying Round, Semi-Final, and Final Round.
-The Qualifying Round will be Head-to-Head with the Dealer. At the conclusion of play in the Qualifying Round, the top players with the highest scores will advance to the Semi-Finals (total number of advancers from Qualifying Round based on total number of auto advancers to the semifinal round). At least 3 players will advance.
-The Semi-Final will consist of the top players from the Qualifying Round, One Wild Card, and the approved Semi-Final Auto Advancers. A Wild Card draw will be conducted prior to the Semi-Final commencing. 
-One winner from each table in the Semi-Final round and any Final Round auto advancers will advance to the final round of play.  
Prize Structure  – All Cash Prizes  
1st          $100,000 
2nd        $20,000 
3rd         $10,000 
4th          $7,500   
5th         $5,000 
6th         $3,000
7th         $2,500
8th         $2,000 
Atlantis Paradise Island Bahamas reserves the right to refuse, cancel, suspend, discontinue, or modify this event at Management's sole discretion. Participation is based on availability and qualified play based on rated play from previous trips to this Casino.
.